In 2008, the estimated population of New Mexico was 1,984,356, whereas in 2006, the population of New Mexico was about 1,937,916. For detailed, up-to-date information about New Mexico's demographics, visit the U.S. Census Bureau's
QuickFacts about New Mexico
web page. For maps of New Mexico, visit this
New Mexico Map
website.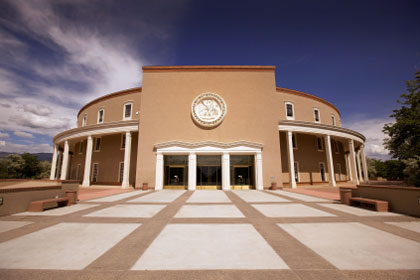 The photograph above shows the state capitol building in Santa Fe, New Mexico.
New Mexico newspaper publishers
are listed here, along with their addresses, phone numbers, and website links;
New Mexico library
names, descriptions, and website links are listed on this page. More
information about New Mexico
can be found here.